Pet Nervine Hemp Blend (1 fl oz.)
THANKS TO HANK (a veterianarian's dog). THROUGH HIS EFFORTS HE CREATED BONDS, HELPED ME DEVEOLP FORMULAS THAT WILL HELP OTHER PET PARTNERS, AND SHOWED US ALL THE VALUE OF LIFE LIVED EACH DAY! A SPECIAL FRIEND!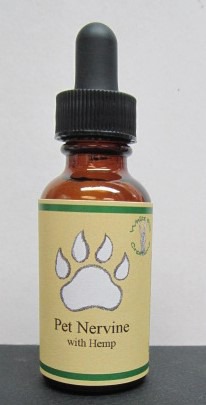 Supports the system to relax in a gentle way, for issues of pain , discomfort, restless, tension, anxiety,, more so during serious illness.
Ingredients:
Industrial Hemp
Catnip (Nepeta cataria)
Valerian root
Chamomile flower (Matricaria chamomilla)
Lavender (lavendula off)
Ginger root
Rosemary leaf
Vitamin E
Food grade glycerin
Alcohol
Water
Best taken at first signs of anxiety, may take up to half hour to be effective depending on pets weight. See label for instructions.
Always consult your veteriarian before starting your dog on a supplement.
*Wholesale orders WILL NOT be shipped until a Wholesale Application has been submitted and approved. If you have not been approved, do not place a Wholesale Order. To get approved please fill out a request on the Contact Us page.
This product is not intended to diagnose, treat, cure or prevent disease. For such seek qualified medical treatment and advice.
Not yet approved by the FDA.